Custom Jewelry Designed Uniquely For You
Choosing an engagement ring, buying a gift or even picking out a new piece for your own collection can be difficult. Sometimes, you see things you like but wish they were larger, had added features or was a different stone. Custom design jewelry is as easy as 1-2-3. Many people can be intimidated by the thought of designing their own pieces because they are worried it won't come out right or that they may be asking for something that might not look nice when finished.
The custom jewelry design process at Dynasty Jewelers is all about the customer. We specialize in custom jewelry and we are good at it because we do it every day...and we love it! Visit our design gallery to see some of our custom work.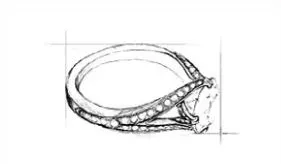 Step 1
We start every design with a conversation. You can bring photos and examples of your vision. We will use those to construct a concept drawing like the one you see here. We will talk about your budget, we will look at stones/metals and build a plan for your special piece. If you have a stone already, please bring it along to the meeting. This is where the magic begins.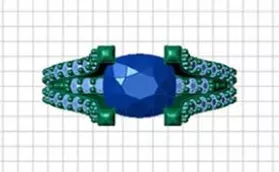 Step 2
Using specialized software, we turn our hand drawing into a computerized sketch of the piece. We use this drawing to measure, concept and depict the ring in a 3D model. This software also allows us to sometimes make a cast of the ring in a special material so that you can try it on or see it in 3D! Doing this really helps you see through the flat image of a drawing and really helps you visualize how the piece will look when complete.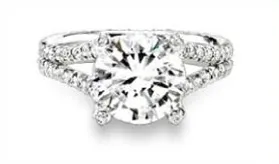 Step 3
Our experienced design team uses the drawings and computer model to handcraft your unique piece. They take great care to ensure the correct stones and metals are placed according to plan. Once complete, they polish and perfect the jewelry ensuring there are no flaws or imperfections. When your piece is ready, we will contact you immediately so that we can arrange for you to pick up your piece.
A Closer Look At Our Process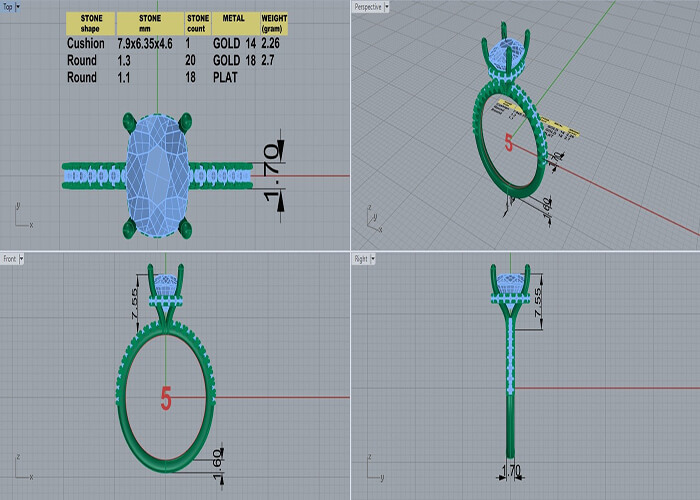 Once we have established a design, each stone is carefully measured and the ring is viewed from all angles.
This is an important step in the design process and your input will be very valuable during this step.
We will collect all the stones for the piece and determine the optimal placement based upon many factors such as quality and its need for light to pass through to obtain maximum brilliance.
Still worried about the process? Just ask us. We can show you other works in progress so that you will have a clear understanding.